Cold Rolled Steel Sheet Coil
Cold Rolled Steel Sheet Coil is produced through continuous cold deformation increases the strength, hardness and toughness and plastic index of rolled hard coil. So the stamping performance will deteriorate and can only be used for parts with simple deformation. Hard-rolled coils can be used as raw material for hot-dip galvanizing plants, because hot-dip galvanizing lines are equipped with annealing lines. The weight of the rolled hard coil is generally 6~13.5 tons, and the hot-rolled pickled coil is continuously rolled at room temperature. The inner diameter is 610mm.
Specification of Cold rolled steel coil
| Product | JIS G3141 SPCC cold rolled steel coil |
| --- | --- |
| Thickness | 0.3mm-20mm |
| Width | 1000mm,1250mm, 1500mm |
| Length | Customer's Requirement |
| Technology | Cold rolled |
| Application | belt saws, buzz saws, metal band saws, chain saw guides, music box sound pegs,cutters,diaphragm springs etc. |
| Coil Weight | 3-10MT |
| HS Code | 7209171000 |
Cold Rolled Steel Coil Production Process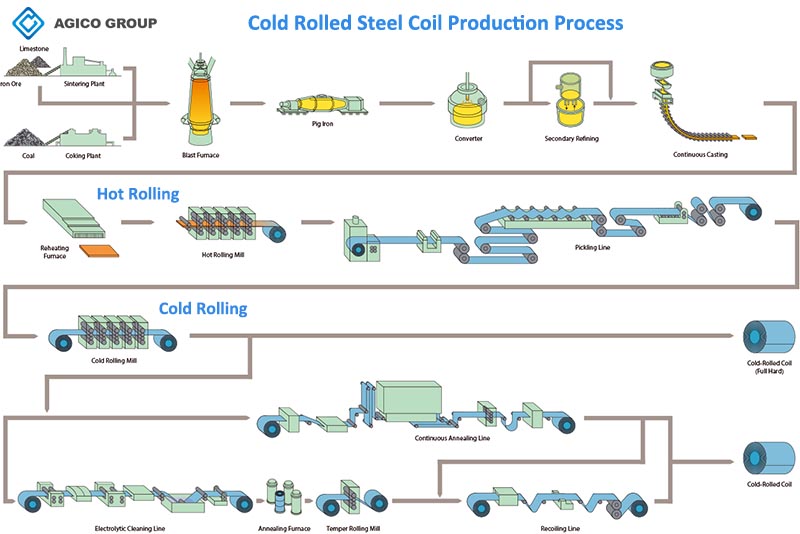 Cold rolling is performed at a normal temperature by hot-rolled sheet. Although the steel sheet is heated during rolling, it is still called cold-rolled. Due to cold rolling after continuous hot rolling, the mechanical properties are poor and the hardness is too high. It must be annealed to restore its mechanical properties. No annealing is called rolled hard rolls. Rolled hard rolls are generally used to make products that do not need to be bent or stretched, and have a hardness of 1.0 or less. Hard rolled luck is good on both sides or on four sides.
Export seaworthy packing:
Inside package:Water proof paper + Inhibitor film
Outside package:Steel sheet cover + Steel edge protectors + Sufficient steel straps
Customized according to the need to develop different ways.
Port:Tianjing/Qingdao
Delivery Time:15 -20 work days.


OUR CERTIFICATE