Product Description
Stainless Steel Coil Specification
Item
201 304 316L stainless steel coil
Standard
ASTM,AISI,JIS,EN,DIN,GB
Surface
Mill Finish,NO4,2B,BA,8K,
Thickness
Cold rolled: 0.2mm-3.0mm
Width
1000mm/1219mm/1250mm or as customer's requires.
Length
As customer's requirements.
Edge
Slit/Mill Edge
Origin
TISCO,LISCO,JISCO,BAOSTEEL,BAOXIN, Eastern Special Steel etc.
MOQ
5 Ton
Payment Term
30%T/T L/C at sight
Price Term
FOB/CFR/CIF
Delivery
7-10 days after the deposit
Packaging
Seaworthy Export Standard or as customer's requests.
Application

construction field;ship building industry;petroleum and chemical

industries;war and electricity industries;food processing and medical

industry; boiler heat exchanger; machinery and hardware industry
China Xino Steel is one of the leading independent producers of stainless steel coils in China. We provide the most comprehensive selection of grades, surface finishes, and stainless steel coil forms. Our main clients are from USA, Canad,
Stainless Steel Coil Grade
201 steel coil: belongs to chromium-nickel-manganese austenitic stainless steel with relatively low magnetic properties
301 steel coil: good ductility, used for forming products. It can also be hardened by mechanical processing. Good weldability. Abrasion resistance and fatigue strength are better than 304 stainless steel.
304 steel coil: has good corrosion resistance, heat resistance, low temperature strength and mechanical properties, good hot workability such as stamping, bending, and no heat treatment hardening. Uses: tableware, cabinets, boilers, auto parts, medical appliances, building materials, food industry (use temperature -196°C-700°C), 304 stainless steel is a universal stainless steel material, anti-corrosion performance is better than 200 series stainless steel materials Be strong. The high temperature resistance is also better, which can reach 1000-1200 degrees.
316L steel coil: 316 stainless steel contains molybdenum and low carbon content. Its resistance to pitting corrosion in the ocean and in the chemical industry environment is much better than that of 304 stainless steel! (316L low-carbon, 316N nitrogen-containing high-strength, 316F stainless steel has high sulfur content, easy-to-cut stainless steel).
410 steel coil: belongs to martensite (high-strength chromium steel), with good wear resistance and poor corrosion resistance.
430 steel coil: ferritic stainless steel, for decoration, such as car accessories. Good formability, but poor temperature resistance and corrosion resistance.
Stainless Steel Coil Finish and Application
Surface

Finish

Definition

Application

2B

Those finished, after cold rolling, by heat treatment,

pickling or other equivalent treatment and lastly by cold

rolling to given appropriate luster.

Medical equipment, Food industry,

Construction material, Kitchen utensils.

BA

Those processed with bright heat treatment

after cold rolling.

Kitchen utensils, Electric equipment,

Building construction.

HL

Those finished polishing so as to give continuous

polishing streaks by using abrasive of suitable grain size.

Building Construction.

No.4

Those finished by polishing with No.150 to No.180

abrasives specified in JIS R6001.

Kitchen utensils, Building construction,

Medical equipment.

8K

The product have excellent brightness and prefer

reflexivity can to be the mirror.

Building Construction

No.1

The surface finished by heat treatment and pickling or

processes corresponding there to after hot rolling.

Chemical tank, pipe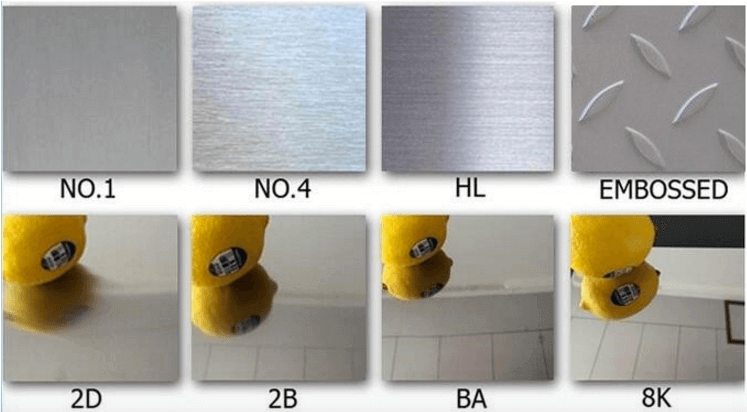 Our Partner Mill
1. 200 series: WuHang, Baosteel, Jinhui, YouYi, Tsingshan, RuiTian, LianZhong, ZPSS.
2. 300 series: TISCO, ZPSS, BaoXin, Krupp, LianZhong, JiuGang, TaiShan Steel, Zsess.
3. 400 series: TISCO, BaoXin, Krupp, JiuGang, Baosteel.
304 316L stainless steel coil Package
Plastic film inner packaging, woven bag outer packaging, and precious materials custom-made wooden boxes for transportation.