What is the difference between PPGI and PPGL?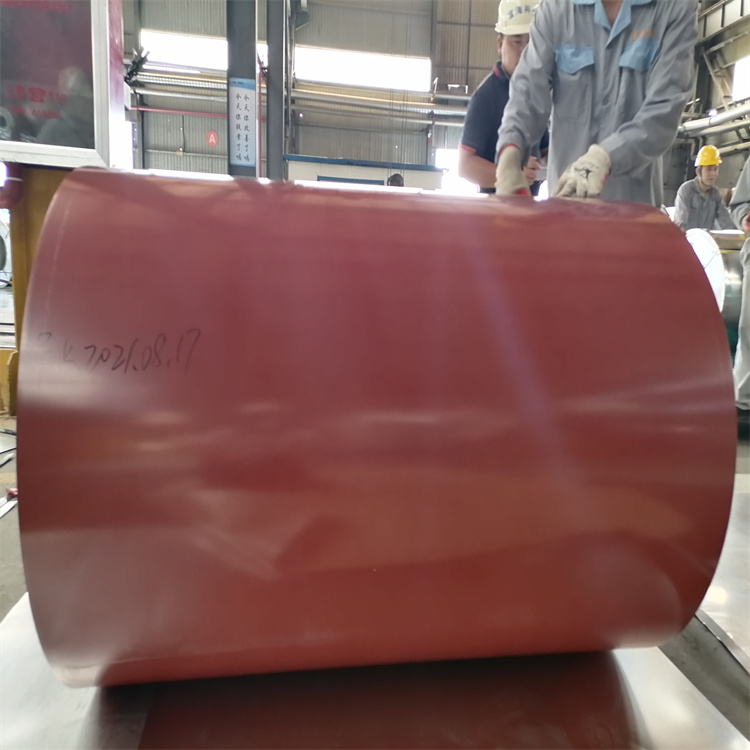 1.PPGL is pre-painted galvalume steel, PPGI is galvanized pre-painted galvanized steel, both of which are pre-painted steel also called color coated steel. The substrates are different, one is galvalume structure (55% Aluminum, 43% Zinc and 1.6% Silicon), the other is galvanized structure. The substrates are different, which determines the difference of its performance.
2. Service life: Based on the same coating mass of PPGI and PPGL, the service life of PPGL will be longer than PPGI, it because the corrosion resistance of galvalume steel is better than galvanized steel.

What is the similarities between PPGL and PPGI?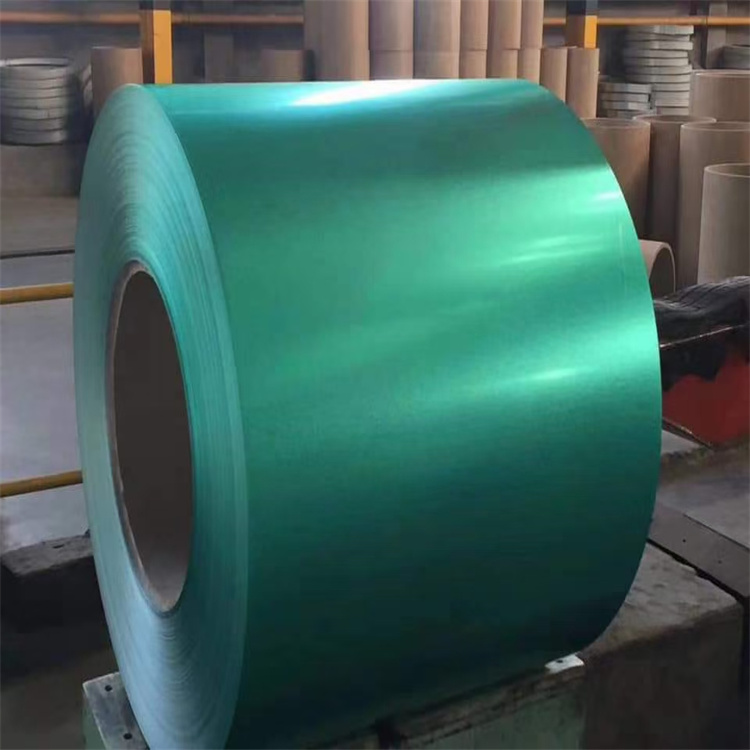 Process: It is a product made of pre-painted steel (galvanized, galvalume, ZAM, etc.) by surface chemical treatment (degreasing, phosphating, chromium hydrochloric acid passivation), then coating and baking.

Painting: Can be customized according to RAL color number or pattern;
The applicable paintings are the same: Polyester (PE), Silicon Modified Polyester (SMP), Polyvinyl Cholride (PVC or Plastisol), Polyvinyidene Fluoride (PVDF), etc.
3. Application:
PPGI and PPGL are widely used for household appliances, buildings, roofing sheets, wallboards, furnitures and other purposes.
4. Advantages:
PPGL and PPGL are coated with organic paint on the galvanized or galvalume steel coils. Therefore, in addition to the protection function of zinc and galvalume, it also has the effect of covering and isolation protection to prevent rust, and the service life is longer. The variety is diverse, and the designs and colors are complete, beautiful and durable. Compared with the galvanized or galvalume steel coils, the coating film has particularly excellent properties, simple construction, low maintenance cost, long service life and no pollution problem.
5. The strength of PPGL and PPGI is independent of paint, and their strength is the same as that of galvanized or galvalume steel plate (the base metal).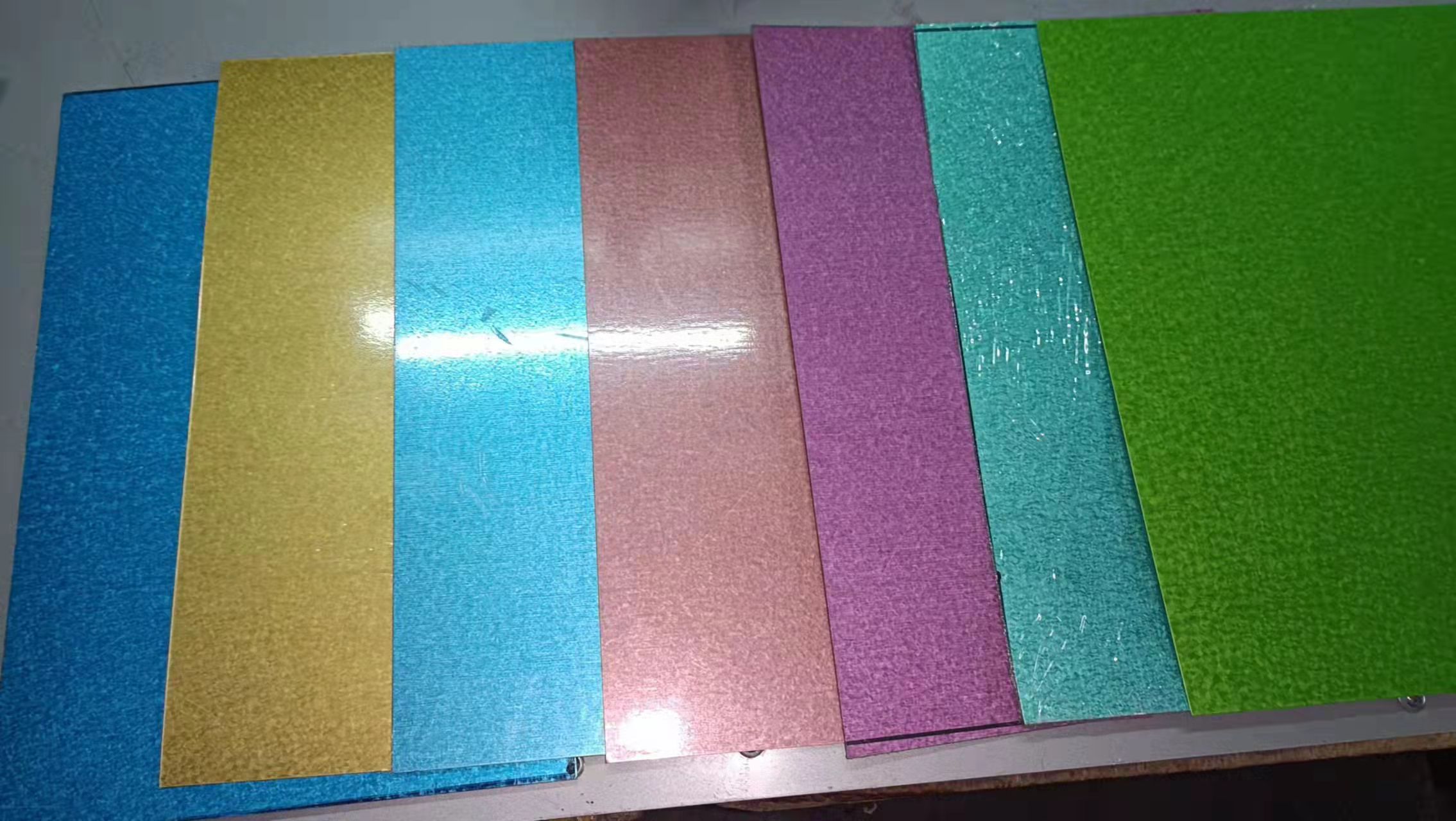 This photo shows different color of AFP painted on galvalume steel plate.
AFP means anti-finger print, which is a transparent painting, add this painting onto the galvalume coil will protect the galvalume base metal, delay oxidation rate, extend the service life.
Some clients like the unique spange of galvalume, but don't want to use color painting to cover this spangle, then we posted this kind of AFP painting, which not only protects the galvalume coating mass but also keeps the unique spangle.
There are few different color options: blue, yello, lake blue, pinc, cyan, green. And we are developing new AFP colors.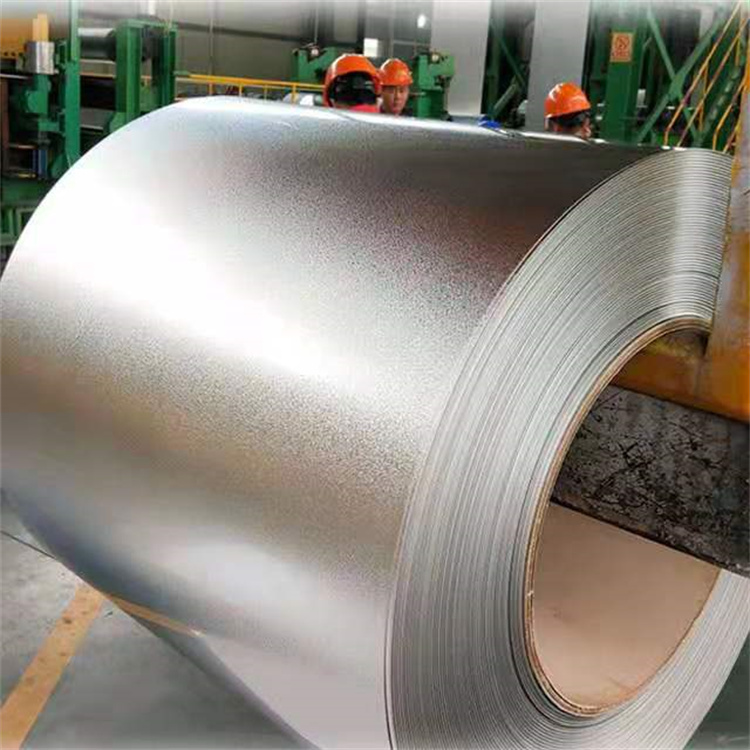 This photo shows a GL coil in prodyction line, also called galvalume coil, which is the base metal of PPGL.
You can see the unique spangle of galvalume coil.
From this photo, you can see our galvalume coil without any spots, scratches, fish tail.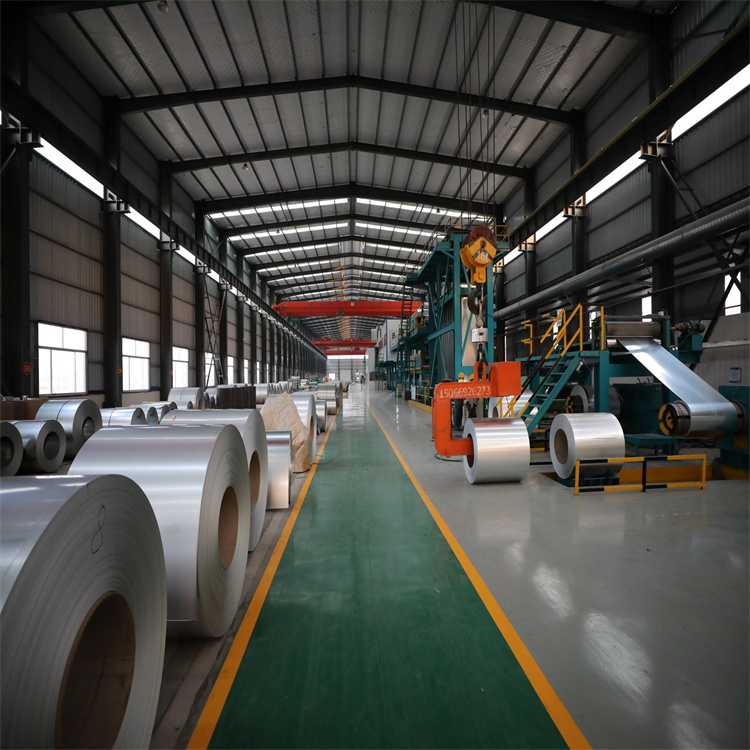 This photo shows a corner of our galvalume factory, there are many coils finished production and not be packed yet.
You can see the production line is very long, which manufacturing galvalume coil from cold rolled steel coil to finished products directly, it will mainly goes through include pickling, plating, passivation, winding processes.