What is Sandwich Panel?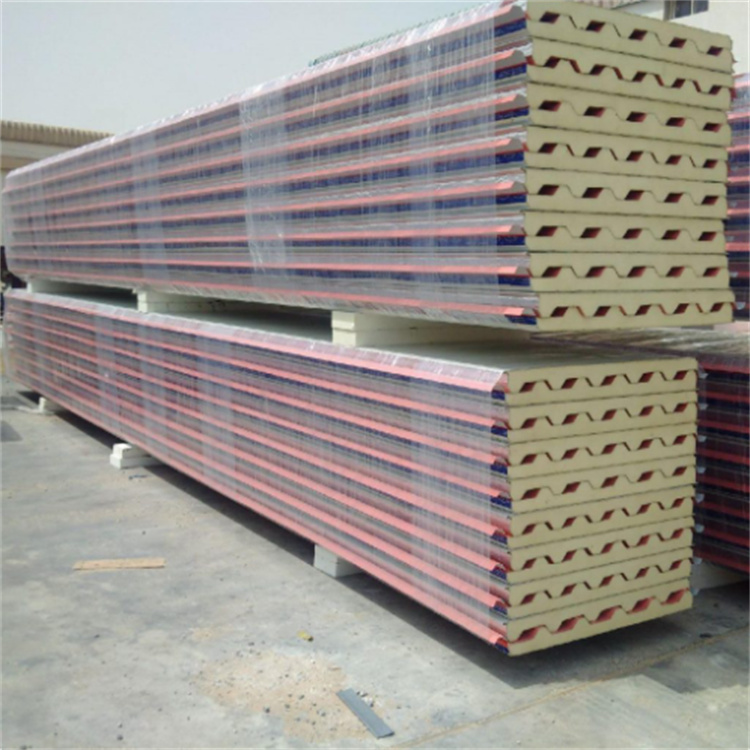 This photo shows finished sandwich panel after packing out of our workshop.
The outer layer is made of PPGI sheet.
Sandwich panels are made by filling between two thin, high-strength metal sheets and a thick, low-density insulation that protects you from elements outside the building. These assembled building elements, although light in weight, have a high load-carrying capacity and are produced on a continuous production line. The material of the metal plate is generally GI, GL, PPGI, PPGL plates.
Sandwich panel is a system for protecting buildings from external factors, it provides the most convenient and economical solution for buildings to have strong support. As a modern, lightweight and durable building element, sandwich panels are used to cover the roofs and exterior walls of buildings, as well as to achieve thermal insulation of interior walls and cold storage.
Different insulation materials should be selected according to the needs of the building. Sandwich panels are produced in various insulation types including PUR, PIR, mineral wool and EPS. You can decide which type of sandwich panel is right for your building/project by considering the building/project's heat, humidity, sound insulation and fire resistance needs.
Sandwich panels are commonly used in industrial facilities, commercial buildings, cold storage, residential buildings, power plants, and agricultural and animal husbandry buildings.
Sandwich panel dimensions
Although the width of the sandwich panel cover is 1000 mm, the length is produced in the right size according to your project needs.
The thickness of sandwich roof panels and sandwich wall panels for building roofs and walls depends on the type of insulation, PUR/PIR insulation types from 40 mm to 200 mm, mineral wool insulation types from 50 mm to 150 mm, EPS insulation types 40 mm to 150 mm.
The thickness of PUR/PIR insulation in refrigerated panels is between 80 mm-200 mm, and the thickness of mineral wool insulation in acoustic panels is between 50 mm-150 mm.
Sandwich panel production
1. Decoiler
2. Corona unit
3. Roll forming unit
4. Mineral wool board feeding system
5. PUR/PIR foaming system
6. Double belt press
7. Cutting unit
8. Cooling unit
9. Stucking unit
10. Packaging unit
Application of Sandwich panel
Sandwich panels are a durable and economical solution for many buildings, from factories to stadiums, shopping malls to swimming pools. With the development of industrial construction and social fields, sandwich panels continue to expand into new fields of implementation, such as military construction, agricultural construction, prefabricated houses, construction site construction, silos and residences.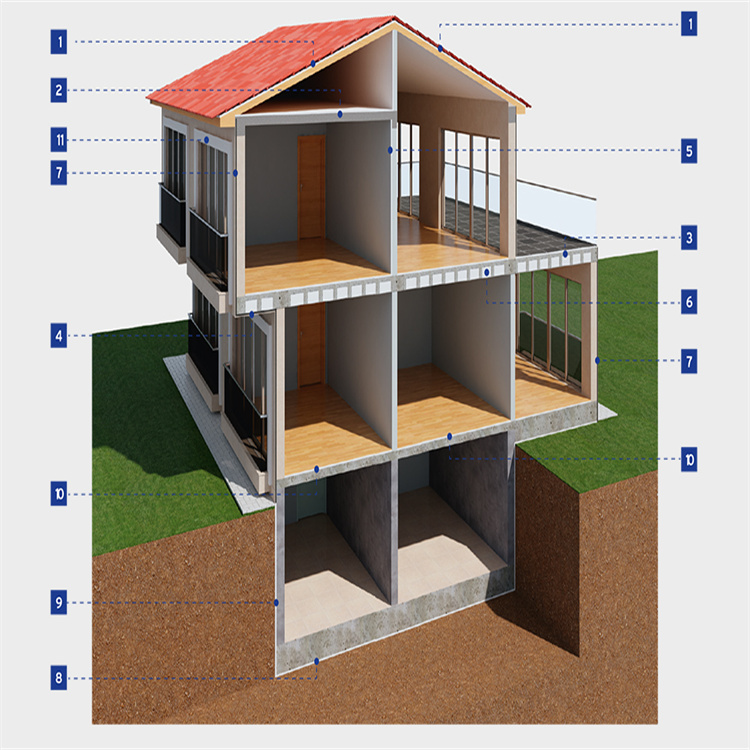 This photo shows the thermal insulation in Buildings:
1. Thermal Insulation of Pitched Roofings
2. Thermal Insulation of Garrets
3. Thermal Insulation of Terrace Roofs
4. Thermal Insulation of Concoles
5. Thermal Insulation of Interior Walls
6. Light Filler Block of Floors
7. Exterior Wall Thermal Insulation
8. Thermal Insulation of Underfloor Layer for Basements
9. Thermal Insulation of Basement Shear Wall
10. Thermal Insulation of Floors
11. Exterior Wall Jambs
Advantages of sandwich panels:
1. Quick and easy installation
Manufactured in the required size, insulation type and color according to the factory structure, the engineering and quality control processes are carried out at the factory in advance.
Installation of the sandwich panels is very easy with few joints on the wide surfaces. With advanced transport opportunities and mechanical lifting equipment, the duration of transport and cladding is significantly shortened. As a result, your project can be delivered in a short time, saving time.
2. Perfect thermal insulation performance
Sandwich panels provide high thermal insulation through PUR, PIR, EPS and mineral wool insulation. Sandwich panel insulation prevents issues like mold and humidity from heat movement and condensation, and ensures your building is strong and durable. The thickness of the insulation material in the sandwich panel varies according to the load-bearing capacity, the area conditions, the purpose of the building and the insulation value.

3. Invest in the economy
Thanks to its easy-to-install feature, you can carry out expansions and renovations without interrupting the daily activities of the building. Additionally, panels are economical and practical as they can be removed and reused.
The light weight of sandwich panels allows you to gain advantages in terms of transportation and main building costs. In addition, due to its durable construction, its maintenance costs are low.
4. Aesthetic appearance of the building
You can enliven building facades and achieve an aesthetically pleasing appearance by designing sandwich panels in different colors and structures that allow them to be placed horizontally, vertically or at an angle. Since the internal parts also use their function, you can create different designs with sandwich panels.
5. High fire resistance
Sandwich panels with mineral wool or FM approved PIR cores have high fire resistance.
6. Air tightness and water tightness
Thanks to its perfect seam details, the sandwich panel prevents air and water leaks.
Sandwich panels have a waterproof construction that ensures effective hydraulic insulation in natural conditions such as snow and rain, and protection against moisture and mildew.
7. Noise-free buildings
Sound insulation sandwich panels used on roofs and walls, with their mineral wool insulation core and perforated metal sheet surface, are sound insulation, creating healthy and comfortable noise-free spaces.
Pre-painted galvanized (PPGI) steel coating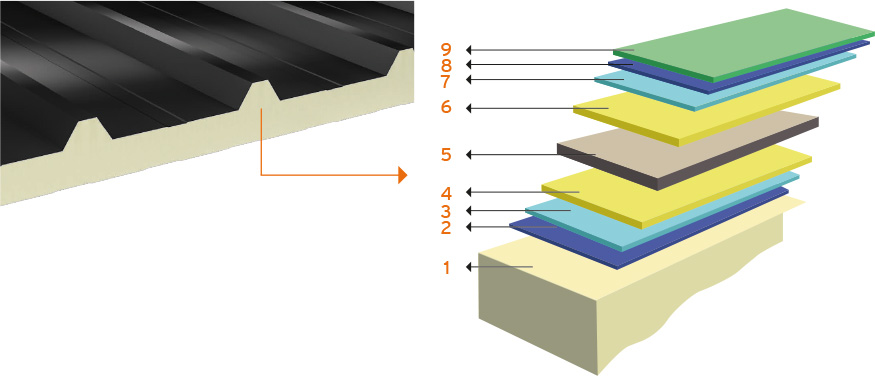 PPGI steel production stage
1. Insulation Core

2.Backcoat

3.Passivating Layer

4.Galvanisation

5.Steel

6.Galvanisation

7.Passivating Layer

8.Coat

9.Topcoat
The steel plates galvanized by applying a zinc layer between 100 gr/m2-275 gr/m2 using the hot dip method are produced on a highly automated continuous line called coil coating.
After the coil is opened, the lower and upper surfaces are cleaned with special chemicals and pretreated to improve their corrosion resistance and enhance paint adhesion. Both surfaces are primed. The back coating increases the stickiness of the insulating core of the sandwich panel. After the primed surface has baked, apply a topcoat to the front surface. They are rebaked, cooled and packaged in pre-painted coils for sandwich panel production.
XINO Steel--provide GI, PPGI, GL, PPGL coils & sheets

as raw material for sandwich panel

manufacture all over the world.
We are only being able to offer our clients with the best quality products, competitive prices, but also provide the best solution for steel product procurement.
Please do not hesitate to send us inquiry, we will provide our best offer at any time!
This photo shows our PPGI coil production in different colors.