JIS G3303 Electrolytic Tinplate Coil ETP for Food Can Italy


The advantages of Electrolytic Tinplate (ETP)
Resistant to corrosion, high strength, good molding, easy welding, non-toxic, elegant appearance, economical.
The detailed application of Electrolytic Tinplate (ETP)
Food cans, beer cans, beverage cans, the bottom caps, 18 liter cans, oil cans, pails, decorative cans, screw caps, crown caps, toys and many other products.
Features of Electrolytic Tinplate (ETP)
1. Excellent Corrosion Resistance
Tin coating mass protect the base steel and resistant to corrosion.
2. Excellent Properties for Can-Making
Electrolytic Tinplate (ETP) incorporates every property vital to the easy production of quality cans: lacquerablity, printabilitym silderability, weldability and workablity.
3. Wide Choice
1) Wide choice of coating mass.
2) Differential coatings available.
3) Choice of Bright Smooth Finish, Matte Finish, and Stone Finish.
4) Comes in both cut sheets and coils.
5) Wide range of tempers.
6) The advanced double reduction mill is used to produce DR (double-reduced) tinplate..
7) Wide range of base metals.
8) K-plate, J-pate and other highly corrosion resistance grades are also available.
9) Good workability of DI (Drawn & Ironed) material.
10) Scrolled cut sheet available.
11) Coated and printed sheet available.
12) Slit coil available.
Internal structure composition of tinplate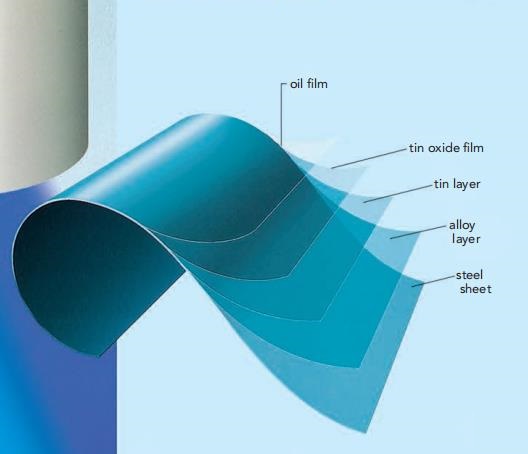 Tinplate in Italy Market
As is known to all, Italy is rich in tomatoes, and spaghetti and pizza are their specialties, so they need cans to store ketchup and tomato paste.
Tinplate is the most suitable material for producing cans.
So there is a huge demand of tinplate in Italy market.
Coating Mass /Coating weights for tinplate
There are two types coating of mass: the Equally coated Mass(in which both sides have the same mass of tin coating) and
the Differentially Coated Mass(in which one side is more heavily coated than the other )
Letter symbol of classification
Type of Coating
Designation of
coating mass
Nominal coating
mass(g/m2)
Minimum
average coating
mass(g/m2)
Former designation
coating mass
SPTE Tinplate
Equally coating
2.8/2.8
2.8/2.8
2.45/2.45
#25
5.6/5.6
5.6/5.6
5.05/5.05
#50
8.4/8.4
8.4/8.4
7.55/7.55
#75
11.2/11.2
11.2/11.2
10.1/10.1
#100
Differentially
coated
5.6/2.8
5.6/2.8
5.05/2.45
#50/25
8.4/2.8
8.4/2.8
7.55/2.45
#75/25
8.4/5.6
8.4/5.6
7.55/5.05
#75/50
11.2/2.8
11.2/2.8
10.1/2.45
#100/25
11.2/5.6
11.2/5.6
10.1/5.05
#100/50
11.2/8.4
11.2/8.4
10.1/7.55
#100/75
Temper of Tinplate
XINO Steel produces tinplate in the following tempers:

Reduce
Standard
designation
Nominal hardness
[HR30TS]
Yield strength
[MPa]
Standard
designation
Characteristic
Tipical Usages
SR
T-1
49
230+/-50
TS230
Soft for drawing
Drawing requirements, drawn ironed cans, nozzles, spouts, closures
T-2
53
245+/-50
TS245
Moderate drawing where some stiffness is required
Rings and plugs, dome tops, closures, shallow drawn and specialized can parts
T-2.5
55
260+/-50
TS260
Combines the characteristics of T-2 and T-3.
Battery cell bodies, small can ends and bodies
T-3
57
275+/-50
TS275
Shallow drawing, general purpose with fair degree of stifness to minimum fluting
Can ends and bodies, large diameter closures,crwon caps
T-3.5
59
290+/-50
TS290
Decreased stifness
Can bodies, and closures and crown caps
T-4
61
340+/-50
TH415
Moderate stiffness
Can bodies, and closures and crown caps
T-5
65
480+/-50
TH435
Increased stifness to resist buckling without the use of rephosphorized steel
Can ends and bodies
DR
DR-7.5
71
520+/-50
TH520
Great stifness and strength
Can ends and bodies, drawn-and-redrawn-cans
DR-8
72
550+/-50
TH550
DR-8.5
73
580+/-50
TH580
DR-9
75
620+/-50
TH620
DR-9M
76
660+/-50
-
DR-10
79
700+/-50
-
Surface / Finishes of Tinplate
Tinplate surface: Bright,Stone,Super Stone,Matt, Silver
Finishes: Bright, fine stone ,stone,silver matte
Different finishes have differently Roughness:
Finish
ROUGHNESS
[μm]
bright
≤ 0.30
fine stone
0.25 – 0.45
stone
0.30 – 0.75
silver matt
0.40 – 2.25
matt
0.40 – 2.25
Steel types/ Grade:
XINO Steel produces tinplate base metal in a broad range of types to meet customers' requirements for corrosion resistance, workability and strength. Chemical compositions are controlled by ladle analysis.
| | |
| --- | --- |
| Steel Types | Renarks |
| L | This steel which is low in metalloids and residual elements, us sometimes used for improved internal corrosion resistance for certain food product containers. |
| MR | Similar in metalloid content to Type L but less restrictive in residual elements, is commonly used for most tinplate applications. |
| D | Aluminum killed, is sometimes required for severe drawing applications or to minimize severe fluting and stretcher strain hazards. |
Available Size of Tinplate
3~14 metric tons for tinplate coils weight
Passivation for tinned grades
Tinplate have different passivation ways use different Code
such as:
CFPA (Chromium-free Passivation Alternative) Code 555
Dip passivation Code 300
Electrochemical passivation Code 311
Electrochemical passivation Code 3141


Single-Reduced Size
Double-Reduced Size
Sheet
Coil
Sheet
Coils
Thickness (mm)
0.18-0.60
0.18-0.60
0.15-0.60
0.15-0.60
Width (mm)
5-1050
5-1050
5-1050
5-1050
Length (mm)
458-1500
-
458-1500
-
Coils weight (Metric Tons)
-
3-14
-
3-14
Inner Diameter (mm)
-
406,419,508
-
406,419,508
Packing and Marking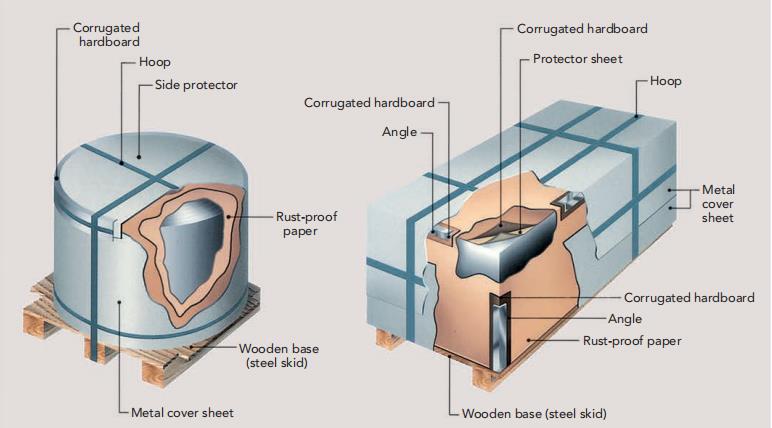 PACKAGING
XINO STEEL tinplate is packed with special care to withstand severe handling in marine transit. Special care is given to prevent rust and scratching.
Typical examples of packaging methods are shown above.
MARKING
Each package is marked with product name. Specifications, coating mass, thickness, dimensions, temper, number of sheets contained, met weight, gross weight, production number, package number, origin and "XINO STEEL". Other marks can be added, if desired.