Prorduct Description
Hot Dipped Galvanized Steel coil
Galvanized steel coil is one of the hot-selling products of XINO Steel. It is available in big, regular, small, and zero spangles. Compared to color steel coil, it is more affordable. Also, it has excellent corrosion resistance and durability. That's why it is extensively used in construction, automobile, furniture, home appliances, etc. Due to its wide applications and good machinability, it is also a great investment project. As a wholesale supplier, Wanzhi Steel has its own factory to meet bulk orders timely.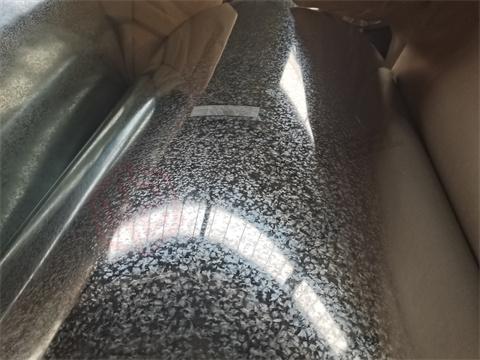 Galvanized Steel Coil Specification
| | |
| --- | --- |
| Item | Galvanized Steel Coil |
| Thickness | 0.12mm-2mm |
| Width | 600mm-2,000mm |
| Coil Weight | 3-5 tons (can be customized) |
| Substrate | Hot rolled steel/Cold rolled steel |
| Surface Structure | Zero spangles, Small spangles, Regular spangles, Big spangles |
| Zinc Layer Thickness | 30g/㎡-275g/㎡ |
| Standard | AISI, ASTM, BS, DIN, GB, JIS |
| Certificates | SGS, BV, ISO 9001 |
| Package | Standard export package |
Note: If you want the width less than 600 mm, you can choose steel strips.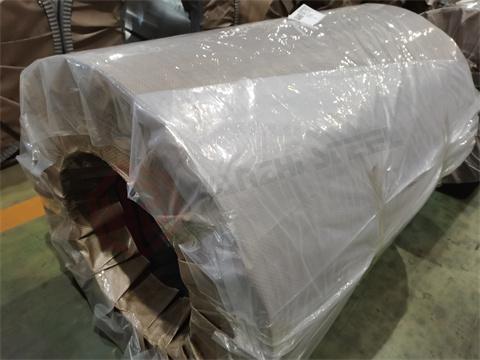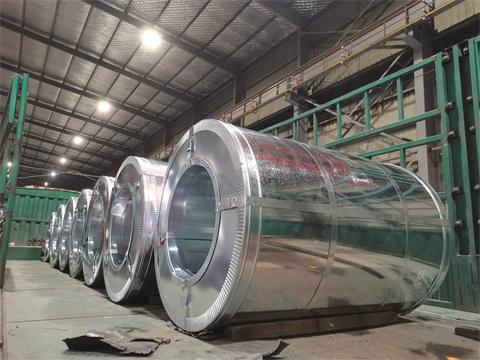 Introduction to Galvanized Steel Coil
| | | | |
| --- | --- | --- | --- |
| Material | Chinese Code | Japanese Code | European Code |
| Commercial Use | DX51D+Z/DC51D+Z (CR) | SGCC | DX51D+Z |
| Drawing Quality | DX52D+Z/DC52D+Z | SGCD1 | DX52D+Z |
| Deep Drawing Quality | DX53D+Z/DC53D+Z/DX54D+Z/DC54D+Z | SGCD2/SGCD3 | DX53D+Z/DX54D+Z |
| Structural Use | S220/250/280/320/350/550GD+Z | SGC340/400/440/490/570 | S220/250/280/320/350GD+Z |
| Commercial Use | DX51D+Z/DD51D+Z (HR) | SGHC | DX51D+Z |
Spangles on Galvanized Steel
Spangle is formed during the hot-dip galvanizing process. The size, brightness, and surface of spangles mainly depend on the composition of the zinc layer and the cooling method. According to the size, it includes small spangles, regular spangles, big spangles, and free spangles. They look different, but the spangles almost will not influence the quality of galvanized steel. You can choose according to your preference and use purpose.
(1) Big or Regular Spangles
Spangle-promoting elements are added to the zinc bath. Then beautiful spangles are formed as the zinc layer solidifies. It looks good. But the grains are coarse and there is slight unevenness. In a word, its adhesion is poor but weather resistance is good. It is most suitable for guardrail, blower, duct, rolling shutter, drain pipe, ceiling bracket, etc.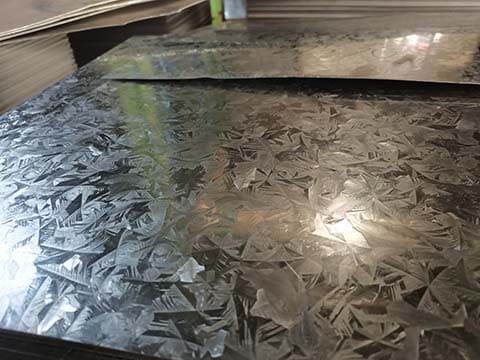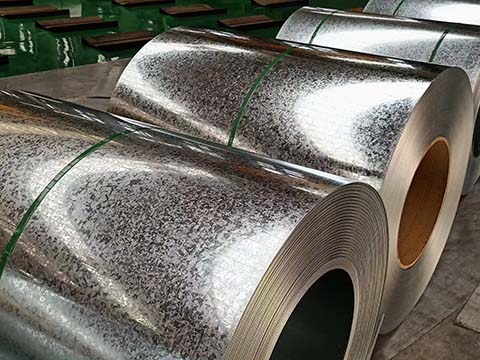 (2) Small Spangles
During the solidification process of the zinc layer, zinc grains are artificially restricted to form as fine spangles as possible. The spangle size can be controlled by cooling time. Generally, the shorter the cooling time, the smaller the size. Its coating performance is great. Therefore, it is perfect for drainage pipes, ceiling brackets, door columns, the substrate for color coated steel, car body panels, guardrails, blowers, etc.
(3) Zero Spangles
By adjusting the chemical composition of the bath, the coating has a uniform surface without visible spangles. The grains are very fine and smooth. It has excellent corrosion resistance and good coating performance. It is also ideal for drainage pipes, automobile components, back panels for home appliances, automobile body panels, guardrails, blowers, etc.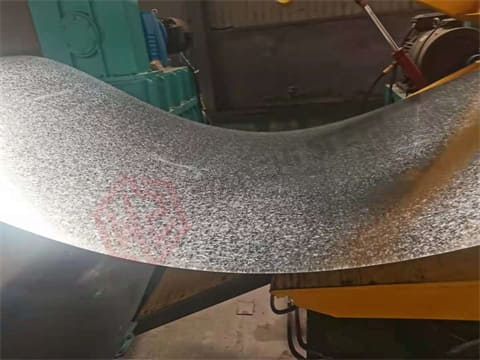 Galvanized Steel Coil Uses
Galvanized coil features lightweight, aesthetics, and excellent corrosion resistance. It can be used directly or as the base metal for PPGI steel. Therefore, GI coil has been a new material for many fields, such as construction, shipbuilding, vehicle manufacturing, furniture, home appliances, etc.
1. Construction
They are often used as roofing sheets, interior and exterior wall panels, door panels and frames, the surface sheet of the balcony, ceiling, railings, partition walls, windows and doors, gutter, sound insulation wall, ventilation ducts, rainwater pipes, rolling shutters, agricultural warehouses, etc.
2. Home Appliances
GI coil is widely applied to home appliances, such as the back panel of air conditioners, and the outer casing of washing machines, water heaters, refrigerators, microwave ovens, switch cabinets, instrument cabinets, etc.
3. Transportation
It is mainly used as decorative panels for cars, corrosion-resistant parts for cars, decks of trains or ships, containers, road signs, isolation fences, ship bulkheads, etc.
4. Light Industry
It is ideal for making chimneys, kitchen utensils, garbage cans, paint buckets, etc. At Wanzhi Steel, we also make some galvanized products, such as chimney pipes, door panels, corrugated roofing sheets, floor decks, stove panels, etc.
5. Furniture, such as wardrobes, lockers, bookcases, lampshades, desks, beds, bookshelves, etc.
6. Other Uses, such as post and telecommunication cable, highway guardrails, billboards, newsstands, etc.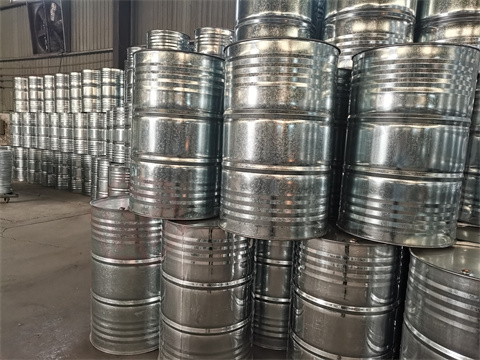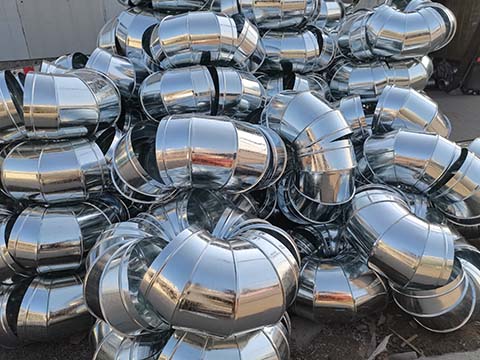 Galvanized Steel Coil Types
According to the processing method, we divide galvanized steel into the following categories:
1. Hot-dip Galvanized Steel Coil (Z)
As the name implies, the steel sheet is immersed in the molten zinc bath continuously so that the coil is covered with a layer of zinc on its surface. Hot-dip galvanizing is immersing the cleaned iron sheet into the molten zinc bath at about 450 degrees to form a zinc layer. The zinc content should not be less than 99%. It is the most commonly used method. It has some advantageous features:
1) The entire steel surface is uniformly covered with a zinc layer, even the corners, hollows, etc. so that the steel sheet is fully protected.
2) The zinc coating of hot dip galvanized steel is thick and tough, which offers superior corrosion resistance. So it is more durable to use. At Wanzhi Steel, the maximum zinc layer thickness can reach up to 275 g/㎡.
But after continuous annealing and hot-dip galvanizing, the steel coil is heated and cooled in a short time so that its strength and plasticity are affected to a certain extent.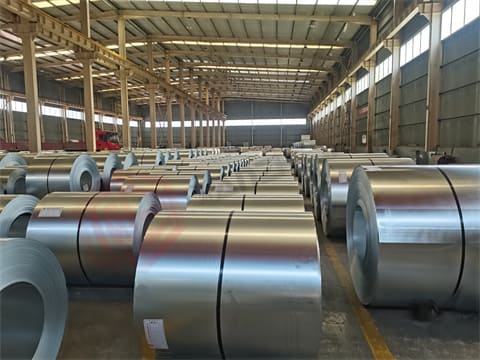 2. Zinc-Iron Alloy Galvanized Steel Coil (ZF)
This kind of steel coil is also manufactured by the hot-dip galvanizing process. But it is heated to about 500 ℃ immediately to form an alloy coating of zinc and iron after it is out of the zinc bath. This galvanized coil has good coating adhesion and weldability. That is, it can be painted directly without further treatment, other than cleaning. The color is matt off-white, and it appears dark gray after oiling and it has no spangles. It is perfect for making rolling shutters, signboards, panels of vending machines, refrigerators, washing machines, display cabinets, office cabinets, etc.
3. Electro-galvanized Steel Coil
Electro-galvanizing is a process of applying a layer of zinc to steel through electroplating, with a saline anode and steel conductor. It basically ensures the same performance of cold rolled sheets through cold galvanizing. Also, it is able to enhance the corrosion and heat resistance of steel. Its surface is smooth and uniform, and it has good workability. Also, it looks shiny and silver-white, which is more beautiful than a hot-dip one. Moreover, it is cheaper than hot-dip galvanized steel. However, the zinc coating is thinner, and the corrosion resistance is not as good as that of hot-dip galvanized coils.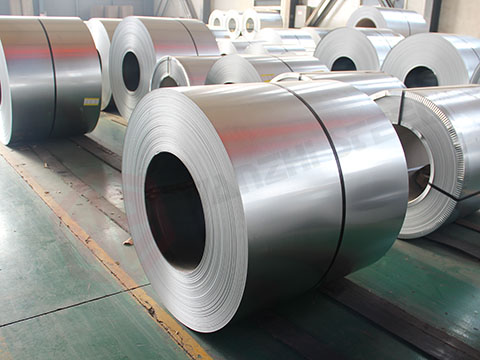 Differences Between Hot-dip and Electro Galvanized Coils
1. Zinc Layer Thickness
Generally, the thickness of the electro-galvanizing layer is 5-30 g/㎡ (3-15㎛), and the hot-dip galvanizing layer is often more than 30 g/㎡, or even as high as 600 g/㎡ (45-300㎛). At Wanzhi Steel, the max zinc layer of hot-dipped galvanized (HDG) steel can reach up to 275 g/㎡.
2. Corrosion Resistance
The corrosion resistance of HDG coil is much better than that of an electro-galvanized one. It is because the zinc layer thickness directly matters to the corrosion resistance of GI steel. As for HDG steel, there is a compound layer between the zinc coating and substrate. When the zinc coating is crystallized, spangles are formed. Its zinc coating is uniform and free of pores. While the zinc atoms of the electro-galvanized layer are only precipitated and attached to the surface of the steel. There are many holes in the zinc coating, which causes corrosion easily. So HDG steel can last for decades in outdoor environments.
3. Appearance
The color of the galvanized steel coil is silver-white. The appearance of cold galvanized steel is smooth but not very shiny, while the hot-dip galvanized steel coil looks rough but bright.
4. Production Cost
HDG process consumes more zinc. Compared with hot-dip galvanized steel, the production cost of electro-galvanized steel is lower. But hot-dip galvanizing is suitable for massive production and the yield is high. So the HDG steel price is not much higher than cold galvanized steel. You can contact us for the latest price list here!