<< No article.
3.0mm corrugated metal pipe price Africa
Product Name

Corrugated metal pipe

Brand

XINO STEEL

Price

FOB 1000 USD/TON

Material

Galvanzed steel coil

Steel Grade

DX51D,DX53D,SPCC,SGCC

Thickness

1.0-5.0MM

Width

600-150MM

Lead Time

45 DAYS

Packing

SEAWORTHY PACKAGE

Payment Term

TT OR LC AT SIGHT
corrugated metal pipe refers to the threaded corrugated pipe for Culverts buried under roads and railways. It is a circular steel structure pipe made of corrugated steel plate or assembled with corrugated steel sheets. It is widely used in culverts (pipes) in highway, railway, small bridge, channel, retaining wall and various mine roadway retaining wall support projects. Because the price is much lower than cement pipe, many Africa clients buy the corrugated metal pipe to replace the cement pipe.
Product description
corrugated metal pipe
Corrugated metal pipe is a high-quality highway building material to replace circular pipe culvert, slab culvert and small bridge. Corrugated metal pipe has the advantages of short construction period, light weight, convenient installation, good durability, low factory cost, strong deformation resistance and reduced maintenance cost after opening to traffic. Corrugated metal pipe is suitable for alpine frozen soil areas, soft soil road base belt and deep filling area, which can save a lot of money and have obvious economic benefits.

Corrugated metal pipe size
Corrugated metal pipe is divided into integral form and assembled form; The section shapes are round, oval, horseshoe, arch, etc.
The pipe diameter range is 0.5m-12m, and the processing thickness is 3mm-6.5mm, which can meet the requirements of structures with filling height of 0.5m-60m on the pipe top.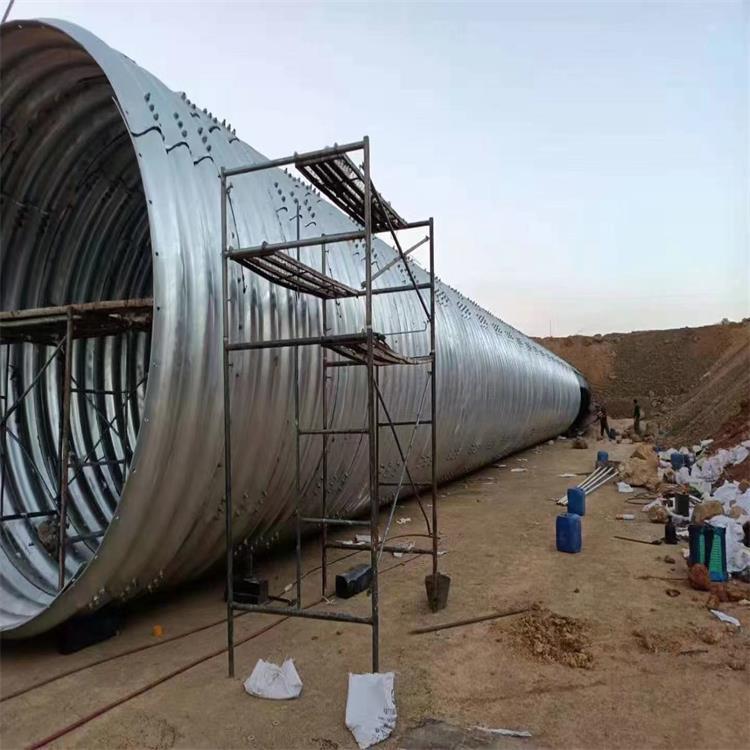 Corrugated metal pipe advantage
1.The structure has reasonable stress, uniform load distribution and certain deformation resistance;
2. Adopt standardized design and large-scale production in the factory: short production cycle and high efficiency, which is conducive to reducing cost and improving quality.
3. Fast on-site installation, short construction period and obvious social and economic benefits.
4. Construction can be carried out all year round, and the construction is not affected by seasons and the environment.
5. Corrugated metal pipe can effectively solve the damage problem of concrete bridges and culverts caused by repeated frost heave in cold areas in North China.
6. Corrugated metal pipe is especially suitable for special areas such as perennial soil, expansive soil, soft soil and collapsible loess, and can avoid the damage of culvert caused by uneven settlement caused by foundation deformation.
7. Compared with concrete bridges and culverts, the comprehensive cost of corrugated steel plate bridges and culverts with the same span is low.
8. The later maintenance workload is small and the maintenance cost is low.
9. Reducing the use of conventional building materials such as cement, sand and stones is of far-reaching significance for environmental protection.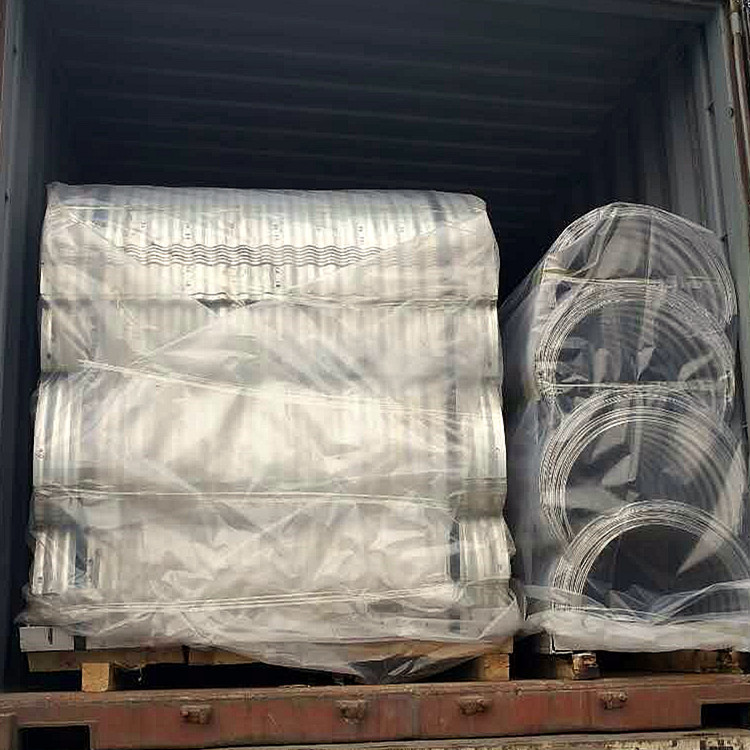 Corrugated metal pipe price
Corrugated metal pipe is made by galvanized steel coil or galvalume steel coil, so the price is decide by the raw material price, because the Corrugated metal pipe shape is special, the packaging method is layer upon layer, it can load 27 tons.
If you want to ask anything just fill in the form below and send us. We will contact you within 12 hours.
Name: Freddie Aston time:2022-05-27 11:34:54
This corrugated metal pipe is exactly what I wanted. It's bright look, lightweight and durable. I used it for a project and it worked perfectly.
Name: C. Ralph time:2022-04-19 13:59:47
The service and the priceing was fantastic. They deliver the 3.0mm corrugated metal pipes promptly.
Write a review