Prices of Aluzinc Roofing Sheets in Ghana
What is Aluzinc roofing sheet?
Aluzinc roofing sheet is a premium roofing profile with the look of tile but with the strength and lightness of steel. It is available in a variety of colors and thicknesses. XINO Steel manufacturing high quality products and products can be customized in length, width and thickness.

All of this underlines the Aluzinc as a lightweight, durable and beautiful product that is ideal for the most discerning user. Tile profiles give the visual effect of roof tiles as well as the safety benefits of roof slabs. The flexibility of steel makes this tile profile suitable for thatched roofs, round or curved roofs, and other roofs that limit the shape of the roof.
This video shows the production of aluzinc roofing sheets, they are formed by roof forming machine.
Price of Aluzinc roofing sheet in Ghana
| | | |
| --- | --- | --- |
| MATERIAL | THICKNESS & LENGHT | PRICE |
| ALUZINC | 0.40mm x 2.45m | GHC 2,132.79 |
| | 0.45mm x 2.45m | GHC 2,249.65 |
The above price of aluzinc roofing sheets in Ghana just for reference, the price will be influenced by the exchange rate, steel market and sea freight.
Please contact us for making an accurate and official offer for you for free!
Quality of our Aluzinc roofing sheet
We adhere to strict manufacturing principles and use raw materials that meet ASTM-A792/792M standards(or standard specified by clients). Our roof panels are mainly galvalume and pre-painted galvalume.
Common shape of Aluzinc roofing sheet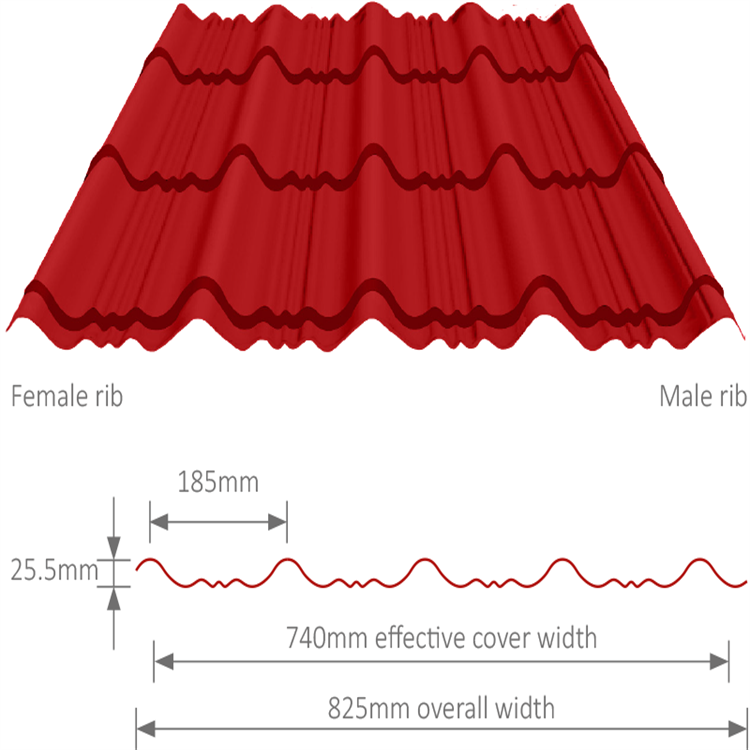 This photo shows the roof shall be of 0.4mm Aluzinc material thickness. The profile shall be roll formed with 4 large corrugations at 185mm centres, effectively covering a width of 740mm, steps every 300mm and a depth of 15mm. The height of the rib should be 25.5mm.
Our Aluzinc multifunctional roofing sheets are also known as stepped tile roofing sheets and are usually of larger spans. This type of roof panel mimics actual tiles. Our state-of-the-art stepped tile machinery is able to uniquely form them to your specifications.
Multifunctional roofing/step shingles are one of the newest roofing panels used in Ghana and sub-Saharan African countries. They are easy to install and uninstall, and if a Step Tile roof panel is installed correctly, it can last for over 15 years.
Request a Quote Today! An appraiser is ready to assist you with your roofing work.