Clip Lock 730 PPGI Roofing Sheet Malaysia
Specification of Clip Lock 730 Roof Sheet:
Profile: Clip Lock 730
Effective width: 730mm
Depth of rib: 37mm
Steel standard: ASTM A792/792M, ASTM A924/924M, ASTM A755/755M
Yield strength: G550 Mpa
Minimum roof pitch: 1°
Tolerance: Normally Thickness ±3mm, Width±5mm, Length±10mm, or as clients designation
What is Clip Lock 730?
Clip Lock 730 is one of the popular roofing system models in Malaysia that combines concealed fastening features with structural performance. The concealed fixing method, with a clip and locking system, minimizes the risk of leakage, making it an ideal roofing product for extra-long roofing projects. On-site roll forming is suitable for any long-term roofing project.
High-strength steel coil is the only raw material from which the Clip Lock 730 is made, making it durable. Recommended for low roofs like warehouses, shop offices, shopping malls or any large roofing projects.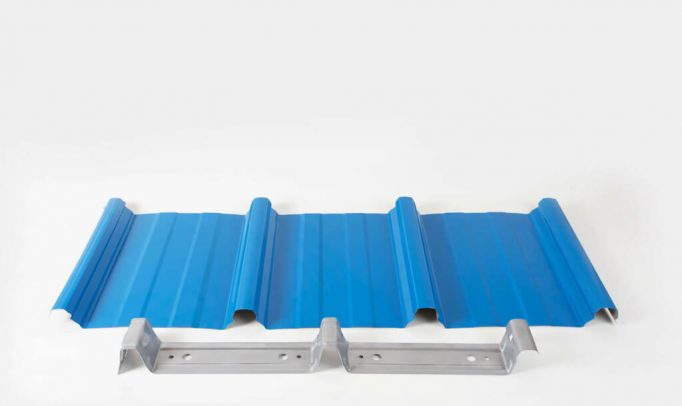 This photo shows clicp lock 730 roof sheet, you can see the details, there are 4 main ribs and 2 small ribs between 2 main ribs.

This photo shows detailed drawing of clicp lock 730 roof sheet.

This photo shows fixing clip of clicp lock 730 roof sheet.
Advantage of Clip Lock 730 Roof Sheet:
Customized
long span ability
Minimize the risk of leakage
durable
Wider effective coverage width of 730mm
Thickness Available Chart of Clip Lock 730 Roof Sheet
Base Metal Thickness(mm)
0.35
0.42
0.48
Total Coated Thickness(mm)
0.4
0.47
0.53
Weight Per Meter(kg/m)
2.67
3.18
3.61
Weight Per Sq Meter(kg/m

2

)

3.77
4.48
5.08
Coverage Per Ton(m

2

/MT)

265
223
197
Steel Grade
MS2383
MS2383
MS2383
Min. Yield Strength(MPa)
550
550
550
Recommended Maximum Roof Length
Rainfall(mm/h)
250
300
400
500
Slope In Degree
1°
130
110
85
67
2°
168
142
99
85
3°
198
165
120
100
5°
245
200
155
124
7.5°
290
247
185
148
Recommended Maximum Spacing of Supports
Base Metal Thickness (mm)
0.35
0.42
0.48
Total Coated Thickness (mm)
0.4
0.47
0.53
Roof
End Span (mm)
1300
1600
2000


Internal Span (mm)
1800
2100
2500
Wall
End Span (mm)
2000
2800
3000


Internal Span (mm)
2700
3500
3600
Overhang (mm)
150
200
300